VITTORIA

It is the youngest municipality in the province, which has a modern and regular town planning scheme, similar to a chessboard. The territory of Vittoria spreads out between two rivers: Ippari and Dirillo. In the area near the course of the Ippari river, the longest river in the province, there is the wide natural reserve of the "Pini D'Aleppo". It is a very thick pine wood with Mediterranean vegetation, and one of the few places in the Mediterranean area wher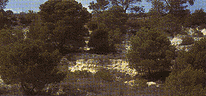 e you can find these protected and particular kind of age-old trees. Vittoria has also a nice holiday resort, Scoglitti, with a small harbour and some characteristic bays, like Baia Dorica, that makes the coast very suggestive. In the ancient times the area around the Ippari river was called "Plaga Mesopotamica Sicula".
In the Middle Ages, apart from the Boscopiano forest there was a wide plain called "Cammarana". In the prehistory, some small rural villages were founded in this territory, as it has been proved by some Siculi findings, ruins dating back to the Greek and Roman age, Byzantine and early Christian traces, and medieval settlements.
The foundation of Vittoria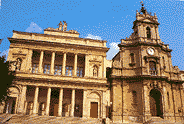 According to the legendary version of Patern˛, it was the Countess Vittoria Colonna, daughter of the Viceroy of Sicily who wanted to found Vittoria on April 24th 1607, in order to settle the debts after the death of her husband Luigi III Cabrera Enriquez. Attilio Zarino has also discredited the myth of a town founded in Boscopiano, a forest cleared of trees since it was a den of thieves. The most credited version is the one of Santiapichi in the seventeenth century who states that the name of the town was chosen by the son of Donna Vittoria Colonna in her honour.
The works of art
The most artistic place in the town centre is Piazza del Popolo, the heart of the town, with its very beautiful Municipal Theatre and the Madonna delle Grazie Church. The theatre in a neo-classical style, has inside three orders of boxes and is decorated with gold and frescoes. In his writing "Viaggio in Sicilia" Berenson considered it one of the most beautiful neo-classical works in Europe. The fašade is imposing with colu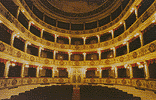 mns and sculptures forming the porch and an upper loggia. In the fašade we can also see some side niches, the statues of Apollo and Diana and the medallions of the Muses and the Italian musicians.
The Madonna delle Grazie Church is a late gothic work, as you can see from the two secondary portals, completed in the early Renaissance. It was damaged by the earthquake in 1693 and restored in 1754 both inside and outside. The church preserves some beautiful altars with precious polychrome marbles, wooden sculptures, paintings and an excellent marble pulpit.