The earthquake of 1693

The Apocalypse hit Sicily with a destructive fury that brushed away centuries of history. In the County of Modica and in the rest of Val di Noto as well, churches, buildings, houses and towns were reinvented according to new standards established by the artistic movement of western culture, which between the seventeenth and the eighteenth century gave birth to baroque art.
This renaissance was the fruit of the earthquake of January 11th 1693 whose last devastating shock, at 9 o'clock p.m., destroyed all in one go the whole valley.
The earthquake event started at a quarter to four a.m. on January 9th. The first night, according to Abbé Ferrara 's writings the sicilians slept soundly. The moon changed its colour and one hour later a big foreshock occurred; it was announced by and underground rumble like a roaring thunder. The first day, t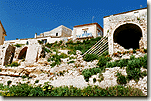 he seism caused thousands of victims. The third day the phenomenon appeared in its most apocalyptic proportion. Some fractures opened in the soil, the sea withdrew and flowed back, while animals were shaken by the violence of the seism. This is the description of this event, the way it is related according to the testimonies of that period.
In Modica 3.400 inhabitants died out of 18.203, while in Ragusa the victims were 5.000 out of 9.9446. 200 people died in Vittoria out of 3.950 and 2.000 in Scicli out of 9.382; In Spaccaforno, the present Ispica, there were 2.000 victims out of 7987. In Giarratana 541 inhabitants did not survive out of a total population of 2.981and in Monterosso 232 people died out of a population of 2.340. The "sorrowful tragedy" was a page of life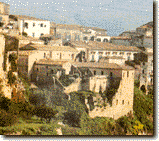 which did not end that night.
And it is not a case if Johann Wolfgang Goethe wrote that the image of the soul can be found above all in the art of Sicily; this was the root of his love for Sicily and for the land of Ibla. We can see the soul of this population in the disposition of volumes, in the constructions and in the styles of baroque towns. The memory of that night too is wrapped up in the splendid floridness of decorations. It is the spirit of men's deepness hit by a catastrophe which in a few minutes cancelled so many signs of millenary civilizations.