../, we should bear in mind that in the Greek age, 8 Km to the Nord of the town, there was the Greek- Syracusan colony of Casmene which was discovered at the top of the Mount Erbesso by the archaeologist Paolo Orsi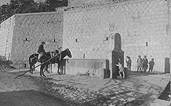 . The boundary walls of that town, important for its strategic and military function, have stood up scattered and in ruins all over the centuries just like the singular town planning scheme exclusively made up of parallel roads directed northwards. In this area archaeologists have found arrows, daggers, lances and javelins while from the bare ground come out blocks of basalt, ruins of the ancient mills.
To the south of the ancient Casmene, there was the present Terravecchia, the old place where once Giarratana stood (Jarratana).