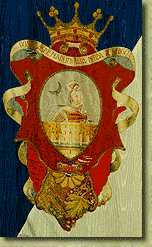 The words of the great writer, recently dead, who dedicated some of his most beautiful lines to its Comiso, give us an idea of the fundamental peculiarity of this town gently settled on the Ippari plain. The rhythm of Comiso is marked by its variety, the continuous ups and downs of its narrow streets between the plain and the mountain, the flights of steps, the white stone which is present anywhere, the bell towers of the churches soaring into the sky, the fountains, the squares, the mosaics and the palaces. Comiso is rich of bell towers, domes, roofs and white, rose and ochre fašades.

The story of the town of Comiso Kasmenai is the mysterious name from which the official story of this very ancient town starts. Before Kasmenai in the mountain range at whose feet stands Comiso, there was a natural environment where Siculi and Sicani, ancient Sicilian populations, extracted and worked the flint-stone. Pindaro described this landscape in the fifth of the Olympic Odes. The natives lived in the limestone caves and huts. They founded big necropolis such as the ones of Monte Rito, Passo Marinaro and Monte Casasia whose ruins were still visible some centuries ago. From the settlements of these hills, the inhabitants dominated the valley rich of herds and woods. As Tucidide tells us in his writings dedicated to the origins of the Siceliote towns, Casmene was founded between Kamarina and Akrai by the Greek Syracusans in 642 as a fortified town in a hill called "Cozzo di Apollo" and it was destroyed by the Romans in 212. Its existence was revealed by the philologist Margherita Margani and the archaeological findings were brought to light in a large area called Castiglione.

The centre of the present town is the Fountain of Diana which is also the nucleus around which the town was rebuilt by the same survivors who, up on the valley called it Yhomisus Casmenarum. In this site, a very beautiful roman mosaic representing Neptun, the Nereids and the dolphins decorated the "Dianae Fons" which fed the roman thermal baths dating back to the II century A.D.. Near the fountain stood the temple of Diana; in this place was later built the small church of St Nicolas and afterwards the wonderful basilica of Annunziata.

The temple of Apollo dominated the acropolis from the highest peak of the town, while in the area of the ancient "docking place", where even Phoenicians arrived with their ships, there are still the ruins of the Castrum, the Roman military quarters. The legend of Apollo tells that the God of Sun lived on the "Cozzo"as a prince and his sister Diana used to wash herself in the fountain and to bring up to the top a pitcher of limpid and fresh water.