A laboratory of art, culture and tradition where the administration board, the workers and the citizens collaborate and work in synergy to let the true identity of Comiso, the one conveyed by Artiemestieri, live again. The preparation of Artiemestieri changes Comiso into a laboratory- town, a yard in the town open to a new analysis of its territory and of the elements of a tradition to revitalize, in order to create new employment potentialities.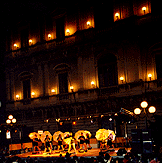 Recovering the ancient art of stone-cutting, "sfilato" and paper making.
Artiemestieri is not an handicraft and art fair. It is a way of being for this town. It is a special occasion to make the town centre a meeting place between culture lovers, tour operators, craftsmen and industry managers. Just like every day of the year the town opens to visitors, tourists and dealers who want to meet this reality. Streets are busy. Artiemestieri is the great moment of facing and showing the result of one year's efforts.
The staff of the International Centre of Ethnohistory hurries in the places where the exhibition is held. In the oratory of the Philippine Fathers, reopened to the public, we can admire numerous works: painting works of G. Paolo Castiglione, a painting of the master Gianpistone, the most valuable of the volumes on the art of embroidery coming from the Casanetense Library in Rome, a sacred book containing extract from the Gospel belonging to the archbishop of Palermo and some findings of the ethnical and historical Museum of the Nebrodi.